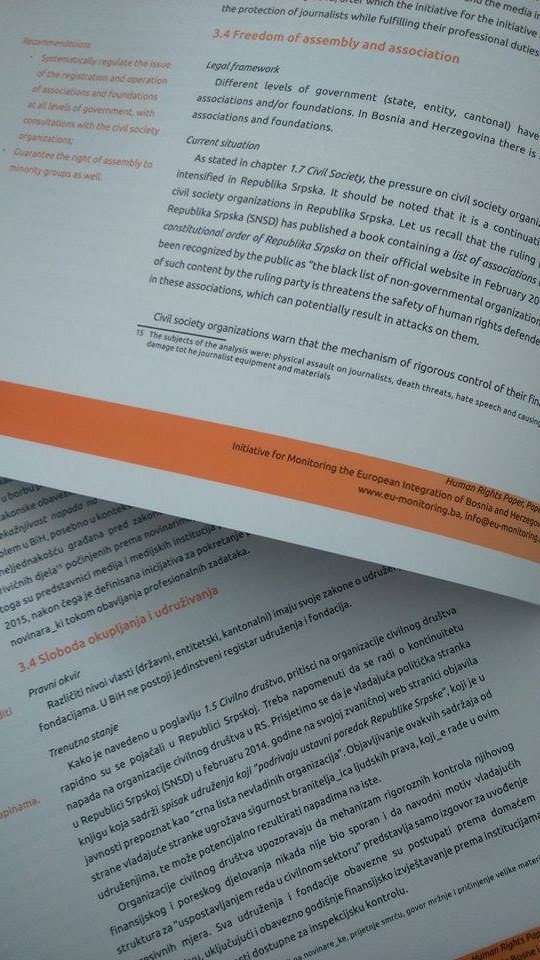 Current situation

As stated in chapter 1.7 Civil Society, the pressure on civil society organizations has rapidly
intensified in Republika Srpska. It should be noted that it is a continuation of attacks on
civil society organizations in Republika Srpska. Let us recall that the ruling political party in
Republika Srpska (SNSD) has published a book containing a list of associations undermining the constitutional order of Republika Srpska on their official website in February 2014; the list has been recognized by the public as "the black list of non-governmental organizations". Disclosure of such content by the ruling party is threatens the safety of human rights defenders, who work in these associations, which can potentially result in attacks on them.
Civil society organizations warn that the mechanism of rigorous control of their financial and tax activity has never been questioned and that the alleged motive of the ruling structures of "establishing order in the civil sector" is only an excuse for introducing repressive measures. All associations and foundations are obligated to act according to the national legislation, including the mandatory annual financial reports to the authorities, and to be fully accessible to the auditing.
The Right to Freedom of Assembly is still compromised. To date there has been no criminal prosecution of the last year's attack on the LGBT Festival Merlinka (on February 1st, 2014), when the police of the Sarajevo Canton, although the assembly was duly announced, has failed to ensure the festival.
The registration of organizations and foundations is still made difficult by the procedures of the relevant institutions. The process of registration takes up to a year, which is illegal. BiH Ministry of Justice, one of the ministries authorized for the registration of associations, presumes the role of intervening in the text of the objectives of the association, restricts the choice of name of the future association or foundation, for which there are no reasonable or objective reasons.
Legal framework
Different levels of government (state, entity, cantonal) have their own laws on
associations and/or foundations. In Bosnia and Herzegovina there is no single register of
associations and foundations.
Recommendations
• Systematically regulate the issue of the registration and operation of associations and foundations at all levels of government, with consultations with the civil society organizations;
• Guarantee the right of assembly to minority groups as well.
This article is part of Alternative Progress Report BiH 2015: Political Criteria.