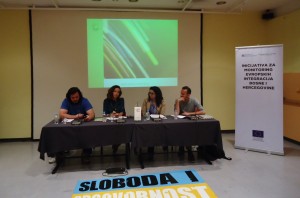 At the end of the year should be presented the European Commission report on the progress of BiH towards the European Union. Since BiH has stopped long ago on the European way, the Center for Political Studies and the Heinrich Boll Foundation held a round table on the role of civil society in the process of European integration.
A representative of the Center for Political Studies Damir Banovic, pointed the potential possibilities of civil society to be part of the European process of BiH.
"The Centre for Political Studies is part of an initiative for monitoring of the process of European integration, an informal network of NGOs. Our goal is that through the analysis and creation of alternative reports on the progress of BiH point out all the negative and positive measures taken by the government of Bosnia and Herzegovina for the application of European standards and in fulfilling the conditions for accession", explained Banovic.
From the non-governmental sector is expected to make closer to the citizens the European integration, said Dina Bajraktarević from the Faculty of Criminology and Security Studies, University of Sarajevo.
"NGOs should inform citizens about the European Union by organizing round tables, as citizens know very little about European integration. It should point out the advantages and disadvantages which European integration brings to us. Our politicians, except they agree that BiH should join the EU, do not have any solution how to make it a reality", added Bajraktarević.
Darko Brkan who leads the Association of Citizens 'Why not?' hopes that the NGOs will make intersection of what's happening with BiH on its path towards the EU.
"Recent research suggests that three-quarters of the population of Bosnia and Herzegovina want to enter the Union as soon as possible. However, citizens do not even know what the European integration is, what it brings and what are the current issues related to European integration because we are in a stalemate", said Brkan to Fena.
Brkan does not expect from the current politicians to lead the country toward European integration.
"Our politicians will be willing to enter into the EU when they retire. Croatia entered the EU and B-H Parliament does not work over a month. Only if they were dealing with the issues of European integration they would have even too much to work", concluded Brkan.
Source: eKapija.ba