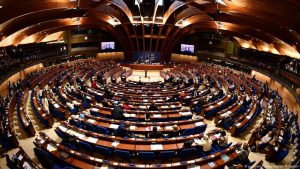 Text published on www.dw.com
BiH still has not named delegation for the Parliamentary Assembly of the Council of Europe and the membership in this institution would enable BiH to influence on decision-making processes in Strasbourg, such as the election of judges for the European Court of Human Rights, Commissioner for Human Rights or Secretary General of the Assembly.  Rasim Ibrahimagić spoke on behalf of the Initiative for Monitoring the European Integration of BiH, stating that membership in the Council of Europe brings with it certain rights and obligations. BiH had two opportunities for naming their representatives in the Parliamentary Assembly, but it missed both of them thanks to the incompetence of the elected political leaders.
The original text in B/C/S language can be found on the following LINK.