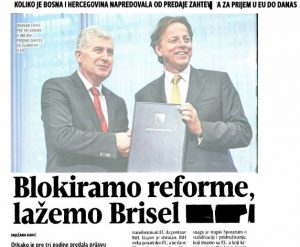 Text was published in Euro Blic newspaper, 22.02.2019.
The article covers the topic of BiH's obligations regarding the process of joining the EU. Politicians in Bosnia and Herzegovina still neglect constitutional reforms and issues regarding essential human rights, such as freedom of assembly, protection of marginalized groups, freedom of expression, omnipresent violation of human rights, hate speech, etc. Not forming the Parliamentary Committee for Stabilization and Association sends the wrong picture to Bruxelles, as if BiH has no interest in joining the European Union. Bosnia and Herzegovina should adapt to the EU, not the other way around. Rasim Ibrahimagić spoke on behalf of the Initiative for Monitoring the European Integration of BiH, stating that BiH has not fulfilled its basic obligations regarding the process of association.
The original text in B/C/S language can be found on the following LINK.