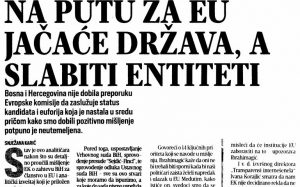 Text was published in the newspaper Euro blic, May 2019.
Bosnia and Herzegovina did not get the European Commission's recommendation on acquiring candidate status. In the opinion of analysts, who have thoroughly examined the opinion and the analytical report accompanying it, the opinion does not contain a clear recommendation for the Council of Europe to approve the candidate status of BiH. In the Europan Commission's opinion, Bosnia and Herzegovina is not ready and it did not fulfill all the conditions in order to acquire a candidate status. Rasim Ibrahimagić, the coordinator of the Initiative for Monitoring the European Integration of BiH, does not consider the opinion positive nor negative because it does not provide a specific answer. What can be concluded from the opinion is that the EC only confirmed that BiH can become a member of the EU, which is something we were already familiar with. We cannot expect to start accession negotiations until BiH fulfills all 14 conditions set in the opinion and thhe Council of Europe will not take the opinion into consideration until BiH, at least, forms the government.
The original text in B/C/S language can be found on the following LINK.