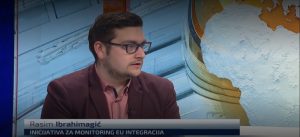 Broadcasted on N1, 28.03.2019.
Johannes Hahn, the European Commissioner for Enlargement, has arrived in Sarajevo. Hahn will talk about the current state of social-economic reforms which BiH obliged to undertake in order to move forward in its path to the European Union. Rasim Ibrahimagić talked about his arrival on behalf of the Initiative for Monitoring the European Integration of BiH, as well as the follow-up questions of the European Commission and other topics relevant for the process of European integration. 
The original text in B/C/S language can be found on the following LINK.