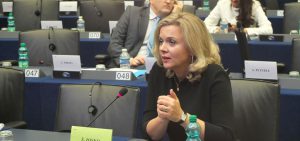 Text published on nap.ba, 07. December
At the conference organized by MEP Željana Zovko, youth from HDZ BiH discussed the election of Željko Komšić as a member of the Presidency of BiH, instead of talking about youth perspective and enlargement of EU to Western Balkans which was the main subject of the event. MEP Ivana Miletić stated that Croatian people in BiH are struggling for survival, which caused the representative of the Initiative for Monitoring of the European Integration, Tijana Cvjetićanin, to react. Cristian Preda, the Rapporteur of the European Parliament said that it is time to stop offering illusions to citizens of BiH and to start working on real issues Bosnia and Herzegovina is faced with.
The original text in B/C/S language can be found on the following LINK.