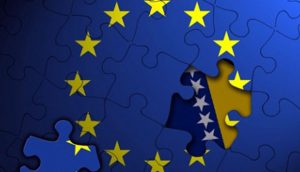 Brussels, 05.12.2018.
Representatives of the Initiative for Monitoring the European Integration of Bosnia and Herzegovina have met Cristian Dan Preda, Rapporteur for Bosnia and Herzegovina in the European Parliament (EP), in Brussels yesterday. The EP's Committee on Foreign Affairs (AFET) will vote on the Report on Bosnia and Herzegovina tomorrow.
The EP's Rapporteur underlined that passivity of BiH political actors towards EU integrations has left the EU with virtually no interlocutors in BiH. The Parliamentary Committee for Stabilization and Association, which was supposed to be the key point for communication between European and BiH parliamentarians, is still not functioning.
The Initiative for Monitoring the European Integration of BiH also reminds that "BiH still hasn't named the Head of Mission to EU, which means that EU officials in Brussels can't communicate with our institutions properly." The Initiative cites that BiH is not acting as country genuinely interested for EU integrations, since "we weren't even able to appoint the Head of Mission to that organization."
Besides not showing any initiative, BiH government representatives still ignore serious challenges which they will face in the next year.
Preda said that he already spoke with some BiH parliamentarians about that, but none of them took any action, nor raised that issue in public: "European elections will be held next year, and I have warned them that if they want to get the European Parliament and the European Commission to do something positive for BiH in this term, their last opportunity is slipping away. However, we don't see any reaction to that warning." Things aren't much better at the top of the executive branch BiH, either.
The meeting ended with a conclusion that all relevant political actors have to stop ignoring warnings coming from Brussels if there really is a will to go further with the EU integration process. Civil society in BiH has proven to be more active and interested in the EU integration process than official BiH institutions and their representatives. This is a clear indicator that institutions and their representatives need to fundamentally change their attitude and actions in the upcoming term.
Contact information:
Initiative for Monitoring the European Integration of Bosnia and Herzegovina
Cristian Dan Preda