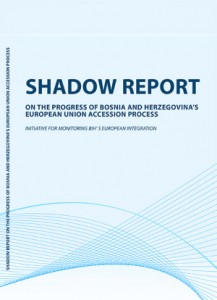 Initiative for Monitoring BiH' s European Integration is inviting you to:
PRESENTATION OF THE SHADOW REPORT ON THE PROGRESS OF BOSNIA AND HERZEGOVINA'S EUROPEAN UNION ACCESSION PROCESS AND ROUNTABLE ON RELATIONSHIP BETWEEN THE EUROPEAN UNION AND CIVIL SOCIETY IN BIH
Thursday – December 19th 2013, 12:00 pm
Mediacentar
Sarajevo, Kolodvorska 3
Speakers:
Vedran Kordić
Tijana Cvijetićanin, UG Why Not? SašaGavrić, Sarajevo Open Centre
Damir Banović, Centre for Political Studies
For that purpose, the Initiative has published a Shadow Report on the progress of Bosnia and Herzegovina's European Union Accession Process from the perspective of nongovernmental organizations with a particular focus on human rights. Also, the aim was to demonstrate the ability of civil society in Bosnia and Herzegovina to cooperate, and to offer expert reports and recommendations, which will be independent from the government and from the European Union.
Roundtable will on B/H/S languages, English translation will be provided.