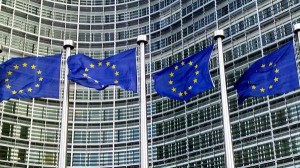 On 15 July, a regional conference was held at Hill – Brijuni, Dubrovnik. The conference was initiated by Croatia in 2013 with an aim to become a place for Heads of State of South East Europe to meet with the distinguished guest from one of the leading countries of the Union.
In addition to the Heads of State fro Croatia, Serbia, Albania, Montenegro, Kosovo and Macedonia, the tripartite presidency of Bosnia and Herzegovina – Bakir Izetbegović, Željko Komšić and Nebojša Radmanović had also attended the Conference.
Chancellor of Germany Angela Merkel, expressed support for the European perspective of the countries of Southeast Europe, pointing out that, as the daily newspaper "Oslobođenje" mentions, destructive climate in these areas of the past was replaced by the construction and reconstruction by seeking to join the EU. Merkel also told that Germany will not give up this approach and all German political parties support the European perspective of the countries of South Eastern Europe.
As general elections in BiH are gettinh closer, Merkel stated that she hopes that this will help our country to reach a new dynamic and to launch new initiatives.
 On the other hand, Jean Claude Juncker, now already confirmed president of European Commission, prior to the vote of the European Parliament has stated that: "the European Union wouldn't accept any new members within next five years", reports Anadolu Agency (AA). The reasoning behind this, as pointed out by Juncker is that "the EU has a need to protect its external borders and to strengthen cooperation between the north and south within the EU. The EU should promote legal immigration as do the United States (U.S.), Canada and Australia", reports news web portal Radiosarajevo.ba". He added that he was also concerned by EU's high unemployment issues and by closure of companies and that in the priority for the next three years will be to provide 300 billion euros for establishing new jobs and new companies in order to stabilize the economy.
Although many believe that the President of the European Commission closes the door of the EU enlargement for the next few years, he states: "accession negotiations will be resumed yet. Balkan countries, as well as all the other countries which are candidates for EU membership, have a clear European perspective".