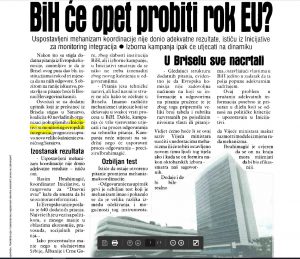 The article was published in newsletter Dnevni Avaz, 22.06.2018.
The article covers the topic regarding additional questions which arrived from the European Commission. Bosnia and Herzegovina has an additional three-month deadline to file the answers to the additional questions. Representatives of the Initiative for Monitoring of EU Integrations think election campaigns will slow down the process. Providing answers to the questionnaire was the first significant test for B&H institutions and it showed that we had not met the expectations.
The original text in B/C/S language can be found on the following LINK.