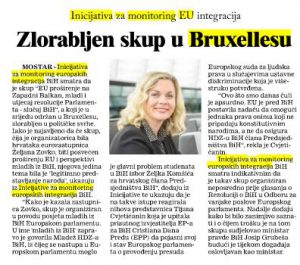 Text published in newspaper Dnevni list, 07. December
MEP Željana Zovko organized a conference on the topic of "Enlargement of EU to Western Balkans, Youth and Impact of Parliament's Resolutions-Case of Bosnia and Herzegovina". Instead of talking about EU integration of BiH, the main subject was Croatian people and their "difficult combat for survival" and the election of Željko Komšić as a member of the Presidency of BiH.
The original text in B/C/S language can be found on the following LINK.