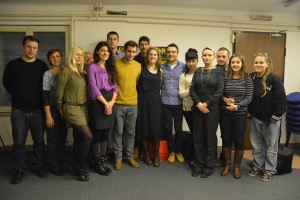 Terry Reintke, a member of the European Parliament visited Bosnia and Herzegovina on the 4th and 5th of December. On Thursday, the 4th of December, Terry participated in a regional conference in Banja Luka dedicated to LGBT rights and organized by Sarajevo Open Center. On behalf of the Initiative, Sasa Gavric  (Sarajevo Open Center) paid a visit to the Parliamentary Assembly of BiH together with Terry and met with members of the Committee on Human Rights, Committee on Gender Equality and Commitee on European Integrations. Together they also visited the Ministry of Human Rights and Refugees of BiH where they talked about European integrations, gender equality as well as the rights of LGBT and Roma people, as the two most vulnerable and marginalized groups.
A very special event took place on Friday night when members of the Initiative for Monitoring EU Integrations of BiH had the chance to meet the MP and share their personal experiences and goals which they plan to achieve in the forthcoming period.
A young, honest and immensely talented MP, Terry conveyed the message that European institutions have not forgotten about Bosnia and Herzegovina, even though there is serious work to be done, and that the civil society is a very important factor in the European integration process.