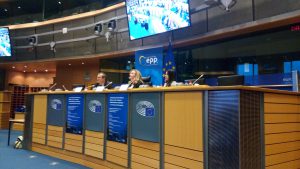 Brussels, December 6, 2018
Željana Zovko (EPP), Member of the European Parliament (MEP) from Croatia, organized yesterday a conference titled "EU Enlargement to the Western Balkans, Youth and Impact of the Parliament's Resolutions-Case of Bosnia and Herzegovina". The event was attended by Josip Grubeša (HDZ BiH), Minister of Justice of BiH. As MEP Zovko said, the conference was organized on the occasion of a visit of young people from BiH to the European Parliament. Actually, on behalf of "BiH youth", Youth of HDZ BiH spoke at the event, and from their appearance in the EP one could conclude that the main problem of students in BiH is the election of Željko Komšić for the Croat member of the BiH Presidency.
Despite the announced gathering was aimed at enlargement of EU and the perspective of young people in BiH, its main topic was "legitimate representation of ethnic groups". This question has been presented in the interpretation of Ivana Maletić, MEP from Croatia, as "conducting a hard fight for survival" of one of the constituent peoples.
Tijana Cvjetićanin from the Initiative for Monitoring the European Integration of BiH reacted to these statements by asking MEP Cristian Dan Preda (EPP), Standing Rapporteur for BiH, to clarify his and the view of the European Parliament on the implementation of verdicts of the European Court for Human Rights regarding cases of constitutional discrimination which has been repeatedly confirmed. The European Union has set a task for BiH to grant equal rights to those who do not belong to constituent peoples, and not to provide HDZ a member of BiH Presidency.
Particularly concerning messages came from another MEP from Croatia – Ruža Tomašić (ECR), who found it important to emphasize that her origin from BiH goes back to the 12/13th century, adding: "Just look how far the borders of Croatia used to reach."
Standing Rapporteur for BiH, Cristian Dan Preda, has reacted sharply to the statements of MEP Tomašić, asking her with how many politicians from BiH she has talked to regarding the process of EU integration, adding that it is her political group (ECR) who does not want to see BiH in EU. MEP Tomašić demonstratively left the gathering after Preda's response.
Preda appealed several times to those present to stop offering illusions to the citizens and to start addressing concrete questions awaiting Bosnia and Herzegovina: "Do not think from an ethnic perspective if you want BiH's progress."
The Initiative for Monitoring the European Integration of BiH believes it is indicative that this kind of gathering is organized just before the vote at the EP's Foreign Affairs Committee (AFET) on the EP's Resolution on BiH. It would also be interesting to know who covered the costs of Josip Grubeša, Minister of Justice of BiH, to attend the conference, considering that he has been addressed as a minister during the event.
Initiative for Monitoring the European Integration of BiH