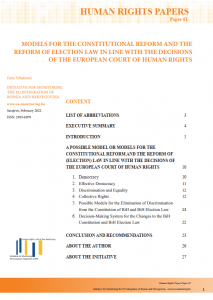 Finding solutions for the electoral system reform in Bosnia and Herzegovina (BiH) presents a key milestone for the future of BiH and a shift from the post-war society phase into a transitional democracy, within the context of greater integrative processes. Changing the current electoral system would change the existing paradigm of responsibility exclusively within the framework of ethnic groups, without any responsibility for the entire Bosnian-Herzegovinian society. Of course, this would also imply a drastic increase regarding public engagement, as well as sanctioning of any nondemocratic engagement through democratic procedures. 
In this paper, Faris Vehabović writes about possible model or models the constitutional reform and the reform of (Election) Law in line with the decisions of the European Court of Human Rights.
Publication in the English language is available here.
Publication in B/C/S language is available here.