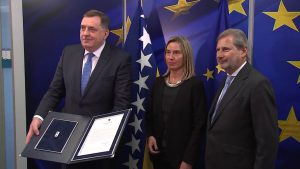 Text published on N1, March 2019.
Answers to the follow-up questions were delivered to Brussels and to the representatives of the European Union. But BiH still has not fulfilled all of its obligations. The EU Enlargement Commissioner, Johannes Hahn, hopes that final opinion on BiH's status could be delivered by the end of this Commission's mandate, but it all depends on the general political situation of the state. The Initiative for Monitoring the European Integration of BiH states that BiH missed too many chances and new formation of the European Parliament could be an aggravating circumstance for BiH.
The original text in B/C/S language can be found on the following LINK.