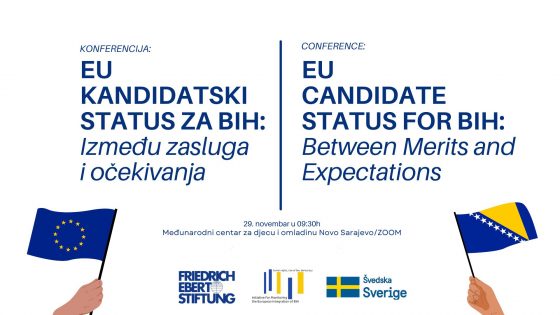 The Initiative for Monitoring the European Integration of BiH and the Friedrich Ebert Stiftung in BiH are organizing a conference on the occasion of receiving the European Commission's recommendation for granting BiH candidate status. The conference "EU candidate status for BiH: Between merits and expectations" will be held on November 29, 2022 in Sarajevo at the International Center for Children and Youth Novo Sarajevo (Grbavica, Kemala Kapetanovića 17, 71000 Sarajevo) starting at 09:30.
The candidate status of Bosnia and Herzegovina for membership in the European Union is a topic that domestic and international officials have been talking about for months. It went one step further, and in October 2022 the European Commission conditionally recommended candidate status for Bosnia and Herzegovina, despite a negative report indicating that no progress has been made in key areas. While waiting for the final decision of the Council of the EU on this matter, there is a debate in the public about what the new conditions and candidate status generally mean for the country's European path.
Representatives of civil society question the quality of the process and reform solutions, pointing to the necessity of conducting a wider social dialogue on the key requirements of the European Commission. In addition to the quality of the reforms, through its work, civil society sees the need for clearer communication of the messages coming to BiH from the EU institutions and better communication to the public about the integration process. This conference is one of the ways to contribute to the stated goals.
We are pleased to invite you to participate in the conference and contribute to the discussion. The organizers will provide simultaneous translation for Bosnian/Serbian/Croatian and English.
You can download the invitation and draft agenda here.
Anyone who is unable to attend the conference live will be able to follow the program via the Zoom platform and the Facebook pages of the Friedrich Ebert Stiftung Bosnia and Herzegovina and the Initiative for Monitoring the European Integration of Bosnia and Herzegovina.
Please confirm your in-person participation in the conference by Monday, November 28, 2022 to the email address [email protected]
To participate in the conference via the Zoom platform, you need to register here.