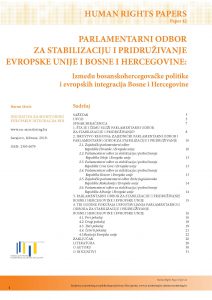 STABILIZATION AND ASSOCIATION PARLIAMENTARY COMMITTEE OF THE EUROPEAN UNION AND BOSNIA AND HERZEGOVINA: Between BiH Politics and European Integration of Bosnia and Herzegovina, written by Harun Išerić.
The Stabilization and Association Parliamentary Committee (SAPC) is the joint body of the European Union and the States signatory to the Stabilization and Association Agreement. It is established for parliamentary oversight of the implementation of the Agreement and the political dialogue of the two parliaments. The experience of the Republic of Croatia testifies that, although the SAPC does not make binding recommendations, its work is of exceptional benefit to the candidate country in the process of negotiation for membership of the European Union. The EU and BiH SAPC is dysfunctional for three years now, due to opposing to the Rules of Procedures by members of the BiH delegation.
This publication is available in B/C/S language on this LINK.