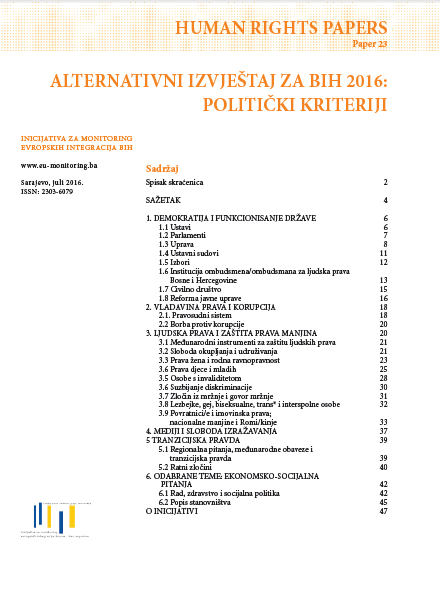 Initiative for Monitoring the European Integration of BiH, a coalition of thirty CSOs, organizes a presentation and discussion about observations from BiH Alternative Report 2016 on the progress of Bosnia and Herzegovina in the process of EU integration and about EU reforms approach to Bosnia and Herzegovina. It represents the current state of the status of human rights in BiH from the perspective of civil society organizations, aiming to influence the official Report for BiH, that EU commission creates every year in October.
Bosnia and Herzegovina has made a formal progress in the EU integration process, which was not accompanied by fundamental reforms or actual progress in fulfilling the conditions for a credible application. The focus of the presentation will be on following issues: work of the Parliaments and governments, Public administrations, Media and freedom of speech, Elections, Human rights and protection of minorities and the issue of reform agenda.
Speakers: Tijana Cvjetićanin (Why Not?), Borka Rudić (BH Journalists), Miroslav Živanović (Human Rights Centre of the University of Sarajevo) and Nedim Jahić.
Moderator: Emina Bošnjak (Sarajevo Open Centre)
Event will take place in Networks Sarajevo, Skenderpašina 1 on Monday, July 18, 2016 at 11:00 a.m.
Translation (B/C/S and English language) will be provided by the organizers.
You can find the complete invitation to the promotion and discussion here.
We kindly ask you to confirm your attendance no later than July 15, 2016.